BIRDS AS ART BULLETIN #376
June 18, 2011 6:01 pm
Arthur Morris/BIRDS AS ART, PO Box 7245 4041 Granada Drive, Indian Lake Estates, FL 33855. Telephone: 863-692-0906. Computer fax: 877- 265-6955
Visit:
www.BIRDSASART.com
To view the Bulletins (including this one) on the web in spectacular white on black format, click
here
.
Important Note
: Please give the images a minute or two to load and do make sure that your security settings are not preventing you from seeing them. Some folks simply need to click on Show (or Allow) Images on the frame of the e-mail. If you have any trouble at all viewing this Bulletin, you should be able to access it in the Bulletin Archives
here
as most Bulletins are posted before being sent.
Managing your subscription
: To subscribe, click
subscribe to BAA Posts
. To unsubscribe, click
unsubscribe to BAA Posts
. To change your e-mail address first unsubscribe at your old address and then subscribe at your new address as above.
BirdPhotographers.Net
: Inspirational, Educational, & Fun. Honest critiques done gently: It Ain't Just Birds!
The BIRDS AS ART Blog
: Great info with a personal touch, great images, great lessons, and our legendary BAA educational captions.
FEATURES
PAINSTAKING WORK…
PACKING MY THINK TANK ROLLING BAG FOR AIR TRAVEL
GALAPAGOS 2012 PHOTO-CRUISE OF A LIFETIME IPT
SHOPPER'S GUIDE
IPT UPDATES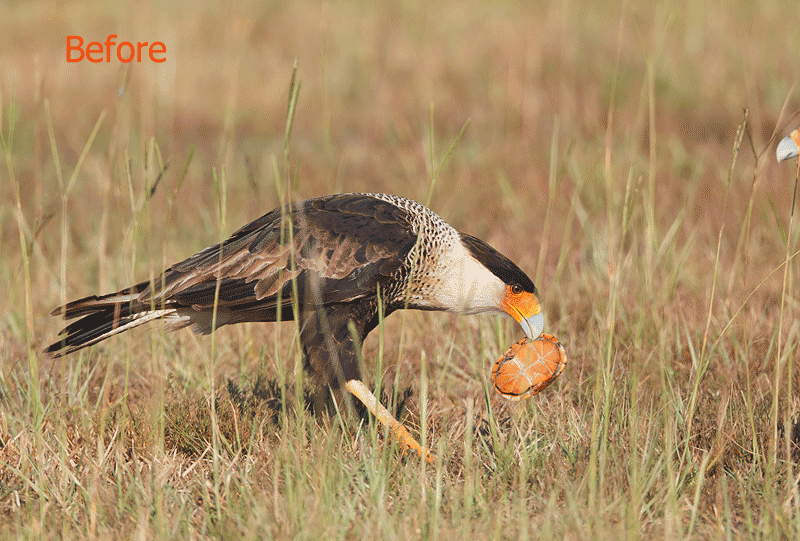 Crested Caracara, adult holding turtle, Indian Lake Estates, FL

This image was created from the front seat of my SUV with the Canon 800mm f/5.6L IS lens, the 1.4X III TC, and the EOS-1D Mark IV. ISO 400. Evaluative metering +2/3 stop: 1/640 at f/9 set manually. As always when I am working from the car, my rig was supported by a BLUBB. Lens/Camera Body Micro-Adjustment: +3.
Take a minute to let the animated GIF above play and note the differences in the before and the optimized images and then see Painstaking Work immediately below.
PAINSTAKING WORK
Client-friend Clemens van der Werf came to my house so that we could so some Lens Aligning on Monday morning past but swamped as I was (and am–getting ready to fly to arctic Norway on Saturday morning), we could not resist the urge to head down to the lake for an hour of photography. There were lots of Ospreys and cranes around. Just when we were getting ready to head back to my house I spotted a caracara that was playing with something in the grass. The bird picked up its toy just once and then only for an instant. As I pressed the shutter one time I realized that the toy was a young turtle. When I saw the image on the laptop I was fine with the fairly sharp grasses but there were several o-o-f blades of grass that were very distracting. The two across the face were easy to deal with using the Divide and Conquer technique (Clone Stamp Tool followed by the Patch Tool) but the really fat one that ran up the birds leg and bisected the body required a lot more work, more than an hour in total. I worked very large and used a series of small Quick Masks to make the repairs. Fixing the RED cast took just a moment; I pulled down the RED Curve in Curves. All in all I was very happy with the results.
Was it worth it for me? Yes, even if the image never sells the optimized file makes me happy. All of my Photoshop clean-up techniques are–along with my complete digital workflow–detailed in our Digital Basics File, a PDF that is sent via e-mail.
PACKING MY THINK TANK ROLLING BAG FOR AIR TRAVEL
If they've asked me once they've asked me a thousand times, "How do you travel by air with all of your gear?" Here is exactly how I got ready for my trip to Norway. (I fly on Saturday, June 17th and should be back in the office for a full day of work on Tuesday, June 28.
Note: you can check out all of thee great LensCoat gear below here; TravelCoats, BodyBag Pro, Lens Pouches, et. al. The first 35 folks to order more than $50 of LensCoat stuff will receive a free small microfiber cloth.
Above is my beloved 800mm f/5.6L IS lens with the hood removed and a TravelCoatTM Canon 800 F/5.6 IS w/o hood – Black. I always keep the strap on the lens; it provides a measure of safety when mounting the lens I loop the strap over the tripod the head. At times I carry the lens with the camera body attached bolero style . I save space in my Think Tank rolling bag by putting the hood in a checked bag where it can serve to protect fragile items such as an extra pair of glasses or an external hard drive. The TravelCoatTM also offers protection to the big lens once I get my gear into the rental car; to make it easier to access my stuff, I remove the lens from the Think Tank bag and place it on the floor of the trunk on a coat or a sweatshirt. Driving with a camera body attached to a long lens is to invite disaster; I never do so unless I am on location and photographing from my vehicle.
One of my two pro bodies is Lens Aligned for the big lens, the other for my trusty intermediate telephoto zoom. Above is the latter, the Mark IV that I use with my 70-200 f/2.8L IS lens. I keep it in the BodyBag Pro – Realtree Snow also seen here. I place my 800 Mark IV body in a BodyBag Pro – Realtree Advantage Max4 HD . Using different patterns makes it easy to grab the gear that you want, white BodyBag for the 70-200 body, brown camo one (see below) for the 800 body. On the left is the BlackRapid RS-7 Strap that I have grown to love. We have them in stock but are not quite ready to offer them for sale.
Here the 800–topped by a LensCoatTM HoodieTM XXX Large Realtree Snow –has been placed the long way in the center of the Think Tank bag . My two Mark IV bodies have been placed on end next to the big lens.
Top right are the 70-200 f/2.8L IS lens and a LensPouch Large – Realtree Snow. Below are the 24-105mm IS L zoom lens and a LensPouch Small – Black. On the left are a 1.4X III and a 12mm Extension tube (stacked). Above them is the LensPouch Small – Realtree Snow that they are stowed in. To the right is a 2X III TC, a 25mm Extension Tube, and a second 1.4X III TC (also stacked). Above them is the LensPouch Large – Realtree Snow that they travel in.
The 70-200 in its LensPouch Large – Realtree Snow (with the narrow end of the lens to our right) goes the long way below the 800 (as seen in this view) at the bottom of the bag. The 24-205 in the LensPouch Small – Black (also with the narrow end of the lens to our right) is set below the 800 at the top of the rolling bag). The stacked 1.4X III/12mm tube in the LensPouch Small – Realtree Snow are nestled between the two lenses. The stacked 2X III TC/25mm tube/1.4X III TC in the LensPouch Large – Realtree Snow fit nicely nose end down in the space to our right of my 800mm Mark IV body.
Top left is my spare camera battery that goes into the LensPouch X Small – Digital Army Camo to its right. The 4th Generation Design Integreated Flash Arm and two flash cords travel in the BeamerKeeper – Realtree Snow that is between the two flash cords. My Canon CP-E3 External Battery is placed in the FlashKeeper – Black and my 580 EX Speedlight in the FlashKeeper – Forest Green. Eight extra AA batteries are stowed in the battery compartment of the FlashKeepers. Velcro flaps keeps everything in place.
The FlashKeeper – Black which is hidden by the BeamerKeeper – Realtree Snow is placed vertically outside the 70-200 to afford it some extra protection and the FlashKeeper – Forest Green fits neatly on top of the 24-105 in the LensPouch Small – Black. The spare battery in the LensPouch X Small – Digital Army Camo is tucked into the space at the narrow end of the 70-200.
We are almost done. The Giotto's Tiny Ballhead with a Wimberley P-5 camera body plate in the clamp for safe keeping (top row center) is stowed in the LensPouch Small Wide – Realtree Advantage Max4 HD to its left. The fresnel screen in its protective blue cover and the Better Beamer are placed in the BeamerKeeper – Black. Lastly the 15mm fish eye lens fits perfectly and safely in the LensPouch X Small – Black. The neatest thing about all of the LensPouches is the removable padded plastic disc insert that protects the front element of the lens. When I throw the 15mm fish eye and the 24-105 into a pocket of my X-tra Hand Vest I do so with complete confidence that when I am ready to use either one they will be undamaged. Another neat feature of all of the LensPouches, FlashKeepers, and BeamerKeepers is that they all come with both a belt loop and a sturdy snap so that they are compatible with a variety of belt and other in-the-field stowage systems.
The remaining small items are placed as space allows. Lastly I throw in a few sets of lens caps top the whole thing off with some large micro-fiber and chamois-type cloths and a shirt of sweat shirt to fill the empty space and act as additional padding.
Note: you can check out all of the great LensCoat gear above here; TravelCoats, BodyBag Pro, Lens Pouches, et. al. The first 35 folks to order more than $50 of LensCoat stuff will receive a free small microfiber cloth.
The birds and wildlife of the Galapagos are very accepting of humans; only two of the nine images above were created with a lens longer than 400mm.
GALAPAGOS 2012 PHOTO-CRUISE OF A LIFETIME
GALAPAGOS 2012 PHOTO-CRUISE OF A LIFETIME IPT: The Complete Galapagos Photographic Experience: July 1-18, 2011 (July 3-17, 2012 on the boat): 13 1/2 days of photography plus a last morning panga ride: $12,749. (Limit 12/Openings: 9.)
Briefly, my two-week trip is without equal. The best guide, the best itinerary, a great boat (the Beagle), and the best leader, one with seven Galapagos trips under his belt, six with Juan Salcedo. If you are good to go, a non-refundable deposit of $5,000 per person is required. The second payment of $4,000 is not due until 11/1/11. The final payment of $3749 per person will be due on 2/1/12. Couples or friends registering together will have a $300 per person discount applied to their final payment.
Important note: if I do not have 8 or 9 deposit checks in hand when I need to commit to leasing the boat (for more than 1/10 of a million dollars) I will seriously need to consider scrapping this amazing trip…
Fly to Quito: July 1, 2012
Travel insurance and rest day: July 2, 2012 (perched hummingbird day-trip optional)
Fly to Galapagos, board boat: July 3, 2012
Fly back to Quito: July 17, 2012
Fly home: July 18.
Cost: $12,749.00 Includes three nights in the luxury hotel–the Hilton Quito Colon, round trip airfare to and from Baltra, all meals on the boat–the food is great, a killer buffet lunch with the tortoises!, all park fees and related costs, all ground transfers, and a five star thank you dinner on the evening of July 17th.
13 full and one half day of photography, plus a 90 minute early am panga ride on the last morning. In-the-field photo instruction and guidance. The greatest-ever itinerary. By far. We visit every great spot on a single trip. The great spots include: Tower Island (including Prince Phillips Steps and Darwin Bay), Hood Island (including Punta Suarez, the world's only nesting site of Waved Albatross, and Gardner Bay)—each of the preceding are world class wildlife photography designations that rank right up there with Antarctica, Africa, and Midway), Fernandina, Peurto Ayora for the tortoises, Puerto Egas—James Bay, North Seymour, South Plaza, Black Turtle Cove, Floreana, Urbina Bay, and China Hat. Plus tons more. And lots of snorkeling for those who wish to partake.
And the world's greatest Galapagos guide. By far. We will be the first boat on each island in the morning and the last boat to leave each island every afternoon. If we are blessed with overcast weather, we often spend 5-6 hours at the best sites. And as noted above, midday snorkeling on most sunny days depending on location. Note: some of the walks are strenuous. Great images are possible on all landings with a hand held 70-200mm lens. I always bring a big lens also as that fits my style.
Not included. Your round trip airfare from your home to and from Quito, beverages, phone calls, and the $500 (US cash) per/person tip for the guide and crew; that breaks down to roughly $35/day shared by the 8 folks who will be waiting on us hand and foot every day for two weeks. The service is so wonderful that many folks choose to tip extra.
Limited to 12 photographers plus the leader.
If you are good to go, please e-mail first and then send your $5,000 non-refundable deposit made out to "Arthur Morris" to the address at the top of this e-mail along with the necessary paperwork here.
Travel insurance is highly recommended. I learned during the past week that three folks who were scheduled for the Midway trip needed to cancel for various reasons…. None of them had travel insurance. My family and I use Travel Insurance Services and I recommend it strongly. Important note: we will notify when the trip is a go and will not cash your deposit check until then. (Most travel insurance policies mandate that you purchase your protection within two weeks of your check being cashed.)
Shopper's Guide
Below is a list of my favorite gear. Thanks a stack to all who have used the Shopper's Guide links to purchase their gear as a thank you for all the free information that we bring you on the Blog and in the Bulletins. Before you purchase anything be sure to check out the advice in our Shopper's Guide.
Support both the Bulletins and the Blog by making all your B & H purchases here.
Canon 800mm f/5.L IS lens. Right now this is my all time favorite super-telephoto lens.
Canon 70-200mm f/2.8L IS II lens. Man, I am loving this lens on my shoulder with the 2X III teleconverter. I also use it a lot with the 1.4X III TC which is designed to work best with the new Series II super-telephoto lenses. I used the 70-200 alone to create all of the images at Scott's place.
Canon EOS-1D Mark IV professional digital camera body. My two Mark IVs are my workhorse digital camera bodies.
And from the BAA On-line Store:
The BLUBB. The world's very best big lens bean bag designed by yours truly.
Gitzo GT3530LS Tripod. This one will last you a lifetime.
Mongoose M3.6 Tripod Head. Right now this is the best tripod head around for use with lenses that weigh less than 9 pounds. For heavier lenses, check out the Wimberley V2 head.
CR-80 Replacement Foot for Canon 800. When using the 800 on a Mongoose as I do, replacing the lens foot with this accessory lets the lens sit like a dog whether pointed up or down and prevents wind-blown spinning of your lens on breezy days by centering the lens directly over the tripod.
Double Bubble Level. You will find one in my camera's hot shoe whenever I am not using flash.
The Lens Align Mark II. I use the Lens Align Mark II pretty much religiously to micro-adjust all of my gear an average of once a month and always before a major trip. Enjoy our free comprehensive tutorial here.
Delkin 32gb e-Film Pro Compact Flash Card. These high capacity cards are fast and dependable. Clicking on the link below will bring you to the Delkin web site. There is lots of great stuff there. If you see a product that we do not carry let us know via e-mail; we will be glad to have it drop-shipped to you and save you a few bucks in the process.
I pack my 800 and tons of other gear in my ThinkTank Airport SecurityTM V2.0 rolling bag for all of my air travel and recommend the slightly smaller Airport InternationalTM V2.0 for most folks. These high capacity bags are well constructed and protect my gear when I have to gate check it on short-hops and puddle jumpers. Each will protect your gear just as well. By clicking on either link or the logo below, you will receive a free gear bag with each order over $50.
IPT UPDATES
A 70-200mm lens will be your most-used lens on our Bald Eagle IPTs. By the end of the week I was calling these "DAD" shots. Dime a dozen.
THE OCT/NOV 2011 HOMER-BASED BALD EAGLE IPTs with Arthur Morris and Robert O'Toole
OCT 25-29, 2011.
Limit 10 (six photographers per boat)/Openings: 3). 5-FULL DAYS: $3399. You will need to be in Homer no later than the evening of October 24.
OCT 30, 2011. Add-on day.
Free if you sign up for both IPTs. Otherwise $550. (Limit 10/Openings: 2). If you are on the second trip and are doing the add-on day, you will need to be in Homer no later than the evening of October 29.
OCT 31-NOV 4, 2011
Limit 10 (six photographers per boat)/Openings: 2). 5-FULL DAYS: $3399. You will need to be in Homer no later than the evening of October 30.
These trips will be based in Homer, AK. We will enjoy virtually unlimited photographic action. This year, most folks opted to miss at least one boat trip due to photographic exhaustion. Two great leaders provide both in-the-field and in-classroom instruction that will include at least two Photoshop sessions. Canon or Nikon we've got you covered. (In-the field instruction only on the Add-on day.) A non-refundable deposit of $1,000 is required to hold your spot. Happy campers only. If we do not know you, you will be required to pass our Happy Camper test. Once you pass the Happy Camper test, please fill out and sign the forms here and send them along with your deposit check. Your registration will not be complete until we have your signed forms in hand.
Things you should know: At the last moment each morning we schedule–depending on tides and weather–either two 2-hour boat trips or one 4 hour boat trip each day of the tour (weather permitting). We do however often exceed those time limits when conditions warrant it. We gladly pick up the additional costs. You will not be charged extra for overtime no matter how extensive. On several days this year our two hour cruises went on for more than four hours; it is hard to sail away from great photography. We work a lot from from the boats and do ,again depending on conditions, spend some time on land to do both perched and flying birds. Even with "only" four hours per day of photography you will head home exhausted with the best Bald Eagle images of your life (unless we encounter unexpectedly bad weather). We have chosen out dates carefully with regards to weather. Temps should be moderate to cold with a mix of sun, clouds, and possibly some drizzle. Snow is not likely on either trip. That said we are going to Alaska and there is always a chance, a very small chance, that it might pour every day that you are there. There will be as many or more eagles on these trips as there were on the March trips. We will be collecting a $20 per day tip for our captain guides at the end of each trip. Most folks opted to kick in additional and we were fine with that.
What's included: lots of eagles and lots of instruction. Ground transportation from the motel to the dock. As above we cover all boat fees and boat-related expenses but for the tips. Breakfast at the motel. We may be able to pick you up at the airport to save you the cost of a cab. Note: some folks may wish to rent a vehicle so that they can photograph on their own during free and nap time.
What's not included: your round trip airfare from home to Homer. (Driving from Anchorage is recommended only for the adventurous….) The cost of your room. Meals other than breakfast.
To learn more about the Homer eagle experience, click on each link below:
Universal Advice for Better Flight Photography with a Zoom Lens
Finally, Finally, and Finally in Homer!
Enhancing Silhouettes
What Makes a Great Bird Portrait?
Insanity, Exhilaration, Exhaustion, and Home
And click here to read the Homer IPT Report.
BOSQUE del APACHE 2011 IPT: "The Complete Bosque Experience." NOV 19-25, 2011.
Slide program on the evening of Friday, NOV 18. 7-FULL DAYS: $3299. (Non-refundable deposit: $500; see details below.) Limit: 10/Sold Out/Wait List only. Co-leaders: Robert O'Toole & Jim Heupel. Geese, cranes, ducks, sunrises, sunsets, and blast-offs. Live, eat, and breathe photography with one of (if not the) world's premier photographic educators at one of his very favorite locations on the planet. Plus great co-leaders and top-notch Photoshop instruction. Please see terms and deposit info below.
With my ever-shrinking teaching schedule and all the specialty trips sold out, this trip may well represent a rare opportunity to learn from the best, so do not wait too long before sending your deposit. Clemens van der Werf who was on this year's Bosque trip is already registered for next year. If you missed the Photographer Experience Quiz and the Mystery Photographer & Experience Level Revealed! posts on the blog, you will surely want to check them out to see what Clemens has accomplished in less than a single year of bird photography. And how!
GALAPAGOS 2011 PHOTO-CRUISE OF A LIFETIME IPT
The Complete Galapagos Photographic Experience: July 3-20, 2011 (July 5-19, 2011 on the boat): 13 1/2 days of photography plus a last morning panga ride: $12,499. (Limit 11/Sold out..)
Terms and deposit info
A non-refundable deposit of $500 (except as noted) is required to hold a spot on the above IPTs. Deposits may be paid by check, PayPal, or credit card. Payment in full (by check or money order only) is due four months before the start of each trip and is non-refundable unless the IPT sells out. You will be required to sign a statement of understanding to this effect. Travel insurance is of course highly recommended. Travel Insurance Services offers a variety of plans and options. Included with the Elite Option or available as an upgrade to the Basic & Plus Options is Cancel for Any Reason Coverage that expands the list of reasons for your canceling to an infinite list from a sudden work or family obligation to a simple change of mind. My family and I use and depend on the great policies offered by TIS whenever we travel. You can learn more here. Do note that many plans require that you purchase your travel insurance within 14 days of our cashing your deposit check or running your credit card. Travel insurance protects you against unexpected developments, injuries, or illnesses. We regret that we must implement this new policy but we have been plagued by last minute cancellations that make it impossible for others to participate and deprive us of essential income.
Important note: please print, fill out, and sign the registration and release forms and include them with your deposit check (made out to "Arthur Morris." ) If you use a credit card to register, please fill out, sign, and mail the forms asap. Your registration will not be complete until we receive your paper work. You can find the forms here.
Best and great picture-making,
artie
Note
: Arthur Morris has been a paid Canon contract photographer, part of the Explorers of Light program, since 1996 and continues in that role today.
B&H Photo of New York, NY
is a BAA sponsor as is
Delkin Devices
. Back issues of older BAA Bulletins can be accessed
here
. The most recent Bulletins can be found
here
.